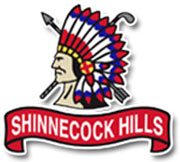 The unsettled history of the U.S. Open's next venue; Shinnecock Hills.
Despite being a historic golfing institution as one of the oldest golf clubs in the U.S. (1891) as well as having hosted numerous U.S. Open tournaments and other notable tournaments of the past, little is known about the true history of the land, the logo and the name behind this majestic place… Shinnecock.
The gorgeous Shinnecock Hills Golf Club, in Southampton, New York, sits on land that the Shinnecock Indian Nation have laid claim to in a serious and credible lawsuit filed in 2005. The nation is seeking the return of 3,500 acres in Southhampton, New York, near the nation's existing reservation as well as billions of dollars in reparations due to what they claim to be an illegally annulled agreement that deprived them of their tribal lands in 1859. The agreement, originally created in 1703, granted them the rights to all and more of the now stripped lands, making up what is now much of the South Hamptons. In 1859, European settlers and developers annulled the agreement in pursuit of this attractive land, that is notably popular today amongst New York's elite vacationers. Currently, the Shinnecock Nation have tiny holdings in the area of only 750 acres. The Shinnecock Hills Golf Club is located right in the middle of the original land agreement territory, on grounds that are considered by the nation as 'sacred' still.
The current lawsuit may take years but one significant victory occurred for the tribe in 2010 whereby the tribe itself was finally and officially recognized by the U.S. government. This recognition is already helping the morale and resurgence of the area's first people as it grants them more autonomy and rights. Despite not knowing what this means for their future, or for that of the area, including the golf club, it is in my opinion that healing, justice and reparation is critical in these situations. Generally, as it often happens, 'great things' come from honorable actions. Perhaps the membership of this exceptionally fine club, as well as the broader professional golfing community that it serves, can become involved in a positive and productive way too. Please share your comments and ideas on how you think this can be achieved.