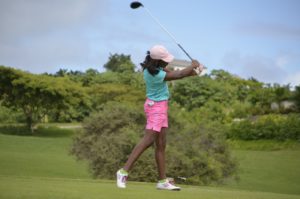 Helping a child prepare for becoming a NCAA college athlete takes time, patience and careful research. Regardless of the sport, proper guidance for your hopeful college athlete is necessary and often underestimated. You don't want to over do it, or under do it either, and the timing of your actions is also important. Go Pac Golf has put together a list of advice for parents that might soon be navigating the college golf path.
First of all, it is important to note that NCAA rules allow prospective students to visit college campus at their own expense at any time. We would highly suggest doing so with your child in the 9th grade to learn more about a variety of schools, golf programs, coaches and so forth. Parents and students may call coaches in advance of their unofficial campus tours although the coach is not allowed to return calls and initiate contact with prospects until September of your child's junior year. Basically you are politely calling to give the coach a head's up that you and your child will be around on a particular day versus showing up unannounced. Keep it casual. It is often an important first introduction as the coach may now take note of the player and likely look into their Junior Golf career up to date and then follow the player over the next two years prior to making official contact with the player in September of their junior year of high school.
Junior Golf
Encouraging your child to establish a Junior Golf career by playing in AJGA events is critical. This is by far the best place for junior golfers to be discovered by college coaches. Look into how your child can earn AJGA PBE status in your state. Players need to build their competitive golf resumes and set themselves up to gain exposure to prospective golf programs.    As a parent, it is important to help set this up for your child without solely focusing on the scouts. We would suggest you focus on the fact that it will be helping your child gain experience in competitive golf to see if this is really what they want. It is also important to not feel that your child has to play for the top ranked schools. There are many great college golfers that have done well in college golf that have come from the lesser-ranked NCAA schools. Help your child choose a school that is the best fit for them based on academics, athletics, social needs, location, cost and so forth. If your child ends up in a great program that really suits them, their golf will surely benefit.
International Student-Athlete requirements.
Over 20% of NCAA Division 1 golfers are foreign students. The NCAA has specific guidelines for international athletes who wish to participate in NCAA programs. Although foreign students and US have the same recruiting guidelines, foreign students must meet certain additional eligibility criteria. The NCAA Clearinghouse is the governing body that reviews each student's academic records. See www.ncaaclearinghouse.net for more details. Familiarize yourself with the requirements for your child. They are straightforward but important.
Generally, for the golf component, we would suggest helping your child establish a junior golf career in his or her country of origin at the highest possible level as would the American born applicant. NCAA golf coaches will be familiar with equivalent junior golf programs in your country as are used to having foreign golfers come to them. We would also suggest visiting the as many college campuses in the US as you can with your prospective NCAA golfer. Have your child play in some US tournaments. Try to connect with other foreign athletes on campus and ask them how they did it.
Most of all, good luck to you and your child in this wonderful pursuit. It is a long road but so exciting for you and your child. Enjoy each curve and turn!